What is 90-Day Peak Performance?
Are you an ambitious business owner ready to elevate your success? I'm here to guide you through a personalised 90-day planning process that will turn your towering ambitions into attainable triumphs.
With over three decades of experience as a successful business owner, I've faced and overcome the challenges you're dealing with. I've built businesses from the ground up and know what it takes to succeed. Now, I'm here to share my wealth of knowledge and experience with you.
Join today to have your best quarter yet, making sure that the dreams you have for your business are taken to the next level.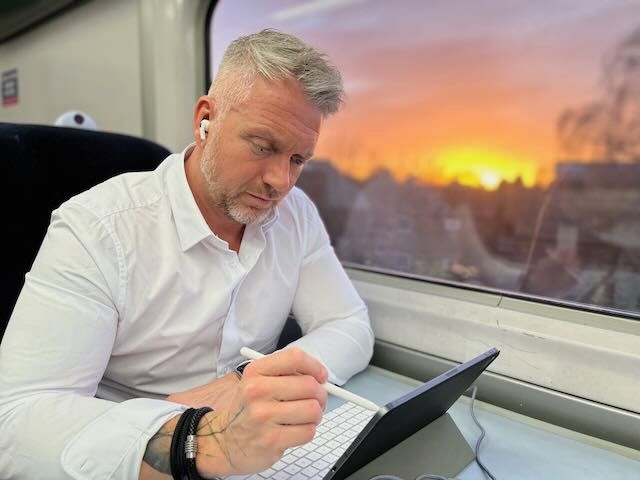 Who am I?
My name is Bertie, and I have years of experience in launching and growing successful businesses. In 2006, I launched fillmybelly.com, a takeaway ordering website, despite numerous people telling me that it wouldn't work. Fast forward seven years, and it became the UK's third-largest takeaway site before being sold to Just Eat.
I understand the challenges and frustrations of running a business and feeling like you're not making progress. But with my guidance, you can break out of the cycle and start seeing real results. That's why I've created the 90-Day Peak Performance Plan - a comprehensive coaching programme designed to help you break through barriers and achieve unprecedented success in your business.
What's Included in the Program?
Check out what's included in the 90-Day Peak Performance Plan below!
⚽️ Initial Kick-Off Session
We'll begin with a comprehensive two-hour session to detail the vision for your company and set the goals to bring that vision to life.
These won't be generic targets but ambitious, achievable objectives tailored to your unique business model and value proposition. This will take between 1-2 hours.
🗓️ 

Weekly Power Calls
Stay driven with weekly 20-minute coaching calls laser-focused on guiding you through the exciting journey of entrepreneurship. Each session is an opportunity to address challenges, celebrate wins, and keep you motivated and on track.
💬

Quarterly Tactical Reviews
Every 90 days, we'll engage in a comprehensive one-hour review session. We'll take stock of your progress, recalibrate your trajectory, and set ambitious targets for the next quarter.
⚡️

Tailored Action Roadmaps
Receive a custom plan after each session, plotting your course to victory.
After each session, you'll receive a personalised action plan. This is your roadmap to success, guiding you towards your goals, one step at a time.
✅ Progress Checkpoints
Enjoy unwavering support and updates to keep your eyes on the prize.
I'll provide regular updates and unwavering support over WhatsApp to ensure you stay on track and focused throughout your journey.
🛠️ State-of-the-Art Tools
Utilise premium project management software that keeps you organised and informed.
You'll have access to top-tier project management tools to track your progress, ask questions, and visualise your journey to success.
Alignment with Long-Term Vision
Limited Spots for Maximum Impact
To maintain the highest standards of personalised attention, availability is limited. Secure your slot today and receive the dedicated support you need to thrive.
Ready for Peak Performance?
Don't let hesitation hold you back. This program is your launchpad if you're need to thrust your business forward. Book a call today and embark on your 90-day journey to Get Sh⚡️t Done!
90-Day Peak Performance Plan
£1497 (inc. VAT) per Quarter
The entire 90-Day Peak Performance Plan is available at a remarkable price of £1,497 (inc. VAT). Consider this not an expenditure but an investment in your growth and a commitment to put industry-leading expertise within your reach.
Round-Up and Renewal
The journey won't end after the quarterly review. Instead, we'll craft a new plan, set fresh targets, and plan another 12 weeks of clear, concise, and actionable steps to help you drive your business to greater heights.
The Unseen Benefits of a Business Coach
Sometimes, the greatest value comes in the unseen benefits - avoiding costly mistakes, cutting through the noise and complexity, and focusing on what matters most. As your coach, I will provide strategic direction and guide you towards your goals in a targeted and efficient way.
 Help for Teams
If you're looking to elevate your team's performance, the principles of my coaching programme can significantly impact critical components of your operation. We can work towards improved staff engagement, leadership development, cultural transformation, and growth in your numbers.
Frequently Asked Questions 🤔
What kind of results can I expect from the 90-Day Peak Performance Plan?
Why is the programme built around a 90-day time frame?
What makes a 90-day plan more effective than a longer-term plan?
How will the Elite Peak Performance Programme help me stay focused over the 90-day period?
Does the 90-day focus mean I'll lose sight of my long-term business objectives?
Is this a voice call or a video call?
Do I have to send anything before we start?
I've tried 90-day plans before and struggled. How is this different?
Bertie is perceptive, engaging and passionate about what he does - and about what YOU do.
He offers ideas, advice and support all of which can be invaluable in giving you the boost you need to get to the next level of your business journey.
Bertie is one of a rare breed - a business coach that has actually built, run and sold a very successful business. His energy is infectious and he's very generous with his knowledge. Although Bertie has a wealth of experience and knowledge.
I'd say his best attribute is that he actually cares about you succeeding. If you're considering working with a coach, I definitely recommend you speak to Bertie.
Working with Bertie over the last few years has helped me and my business tremendously. CCM is currently having its most successful year to date over its 21-year history.
In no small part is this to the changes that have been implemented since working together.
Limited Availability
To ensure that each client gets the attention and support they need, I'm limiting the number of clients I take on. This is your chance to get personalised coaching from a successful business owner who's been in your shoes and knows how to succeed.
Ready to Achieve Peak Performance?
If you're ready to break through the barriers holding you back and take your business to the next level, I'm here to help. Let's work together to achieve the results you deserve. Don't miss out on this exclusive opportunity - book a call today to get started!
Sign Up
Still Not Convinced? 🤷‍♂️
Don't let hesitation hold you back. This program is your launchpad if you're poised to thrust your business forward. Book a call today and embark on your 90-day journey to Get Sh⚡️t Done!
Book a Call!
Other Ways to Work With Me
Is this one not for you? No problem! Check out some of my other packages below!
Elite 1:1 Mentoring
Elite one-to-one business mentoring program designed to help you achieve your business goals with weekly sessions.
Power Hour
A one hour session between yourself and I, where we figure out your next steps on what to improve.
Strategic Advisor
As a long-term strategic advisor, I provide the same expertise and guidance as a non-executive director but with a more flexible and personalised approach.